Cast Urethane Stabbing Guides
Connecting pipeline pieces in the field shouldn't be a guessing game.
ESCO Plastics designs, develops and delivers high-quality, long-lasting cast polyurethane stabbing guides that help you safely and smoothly align and connect sections of drill pipe.
ESCO Plastics' cast urethane drill pipe stabbing guides are expertly engineered and skillfully crafted to ensure they meet your exact specifications and withstand the challenging demands of the oil and gas industry.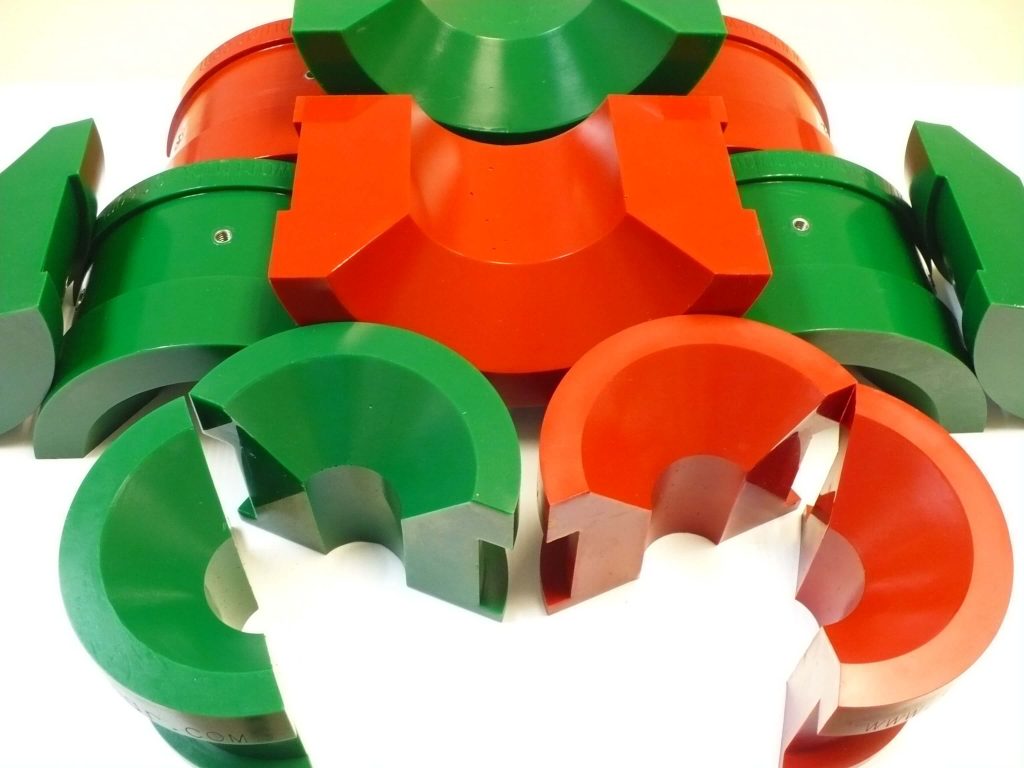 For more than a half-century, ESCO Plastics has manufactured the highest quality cast polyurethane parts in the field.
Our durable, reliable components will:
Significantly extend the service life of your equipment
Drastically decrease your downtime for repairs
Considerably cut your maintenance costs
Substantially increase your operation's productivity
With our vast industry experience and technical expertise, ESCO Plastics' dedicated professionals work closely with you to configure and supply unique polyurethane parts completely tailored to meet your needs.
Providing the product you need
Custom polyurethane stabbing guides allow you to efficiently and effectively align two sections of drill pipe to make a connection without damaging the face or threads. Durable, reliable polyurethane stabbing guides provided by ESCO Plastics allow easy handling of pipe sections and funnel threads into threading correctly on the first attempt.
When your application relies on high-quality molded urethane, you can count on ESCO Plastics to deliver the best materials. ESCO Plastics' polyurethane parts are:
Strong
Lightweight
Wear-resistant
UV resistant
Heat resistant
Durable
Perform in the harshest environments
Delivering the service you deserve
ESCO Plastics supplies the highest quality polyurethane products in the field. We have the experience, expertise and equipment to provide the durable, reliable cast urethane components you need.
Experience
Operating for more than 50 years.
Utilize comprehensive industry knowledge to manufacture high-quality products.
Offer prompt, professional delivery.
Expertise
Founded by LSU graduate chemist, Doug Marchand, one of the pioneers in the cast urethane industry.
Dedicated experts work diligently to improve and enhance our products.
Trained sales professionals committed to providing exceptional customer service, especially in the oil and gas industries.
Equipment
Automated production and metering machines ensure repeatability.
One of the largest and leanest urethane manufacturing operations in Texas.
ESCO Plastics is your perfect cast polyurethane parts partner. Contact us today at 281-443-3710 and request a quote!