When it comes to your business, you need parts that resist fatigue and failure despite the extreme temperatures and repetitive movements that are so often required of them. ESCO Plastics is proud to offer the quality polyurethane manufacturing that you need when it comes to custom molded urethane parts. In today's post, we'll take a look at exactly how polyurethane parts outperform their plastic, metal, and rubber counterparts. Continue reading to see all of the benefits that this product can offer you and call today to start your custom urethane part order.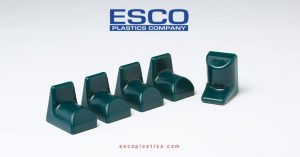 Polyurethane vs. Plastics
No matter what industry you're in, you need parts that will perform accurately every time despite the conditions they may be exposed to. Over time, plastic parts will not be able to withstand the repetitive impacts during application. Urethane parts, on the other hand, exhibit an incredibly high resistance to impact, which means that you can rely on their consistent performance. Abrasion resistance and resilience are two other ways that polyurethane products outperform plastic products. Molded urethane parts resist abrasion and are resilient, which means that they will maintain their shape and durability in the harshest applications.
Polyurethane vs. Metals
Metals were long thought to be the strongest building material to work with. This was true until the advancement in the science behind molded urethane. Today, you can order your custom polyurethane products to replace your metal products and expect to reap huge benefits. You will observe a large reduction in weight and noise, as well as notice that the urethane parts are both non-marking and non-conductive. Another benefit is that unlike metal, polyurethane products resist corrosion, which means that you can expect a longer life out of your parts.
Polyurethane vs. Rubbers
While some people may think that rubber is just as good as polyurethane, this is just not true. Polyurethane excels at resisting cuts and tears — far more than rubber. Urethane products also have a significantly higher load-bearing capacity than rubber as well as a resistance to oil, which means that you can get more work done with the same type of part as well as not worry about substances slowing it down. As we mentioned earlier, polyurethane is non-marking and this is good to keep in mind when you consider that your rubber parts do leave marks behind. The superior abrasion resistance of custom urethane parts and low-pressure tooling required to make them means that you will save money in the long run when you switch to polyurethane products.
At ESCO Plastics, we understand that you need quality parts that perform well time and again, in a variety of environments and conditions. Whether you are concerned about your parts holding up in extreme temperatures or high-repetition applications, we can produce the parts that your business needs. With more than 50 years of experience in the polyurethane manufacturing industry, we can provide the high-quality molded urethane parts you need with exceptional service and affordable prices. Call to place your order today.